Tamim Boca classes for the 2023-2024 school year are Kindergarten – Fourth grades.
After School Enrichments
Afterschool enrichment classes may be available for an additional fee. Our classes may include:
Sunset Strings Academy sets the foundation for your students to begin learning violin in a fun, age-appropriate way. Our mission is to teach children to work together harmoniously to achieve their goals of learning to play the violin. Education studies have shown that introducing music to a child's life will not only benefit them socially and emotionally, but will also help to build confidence, friendships, and a true appreciation for music.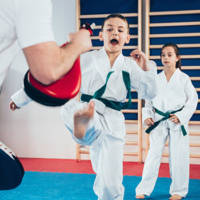 Nuwar's Kenpo Karate has been a very popular enrichment choice for several years. Karate promotes concentration, structure, and self-discipline.
There are many benefits to playing chess. The majority of these benefits deal with developing and improving cognitive brain functions, including problem-solving, creative thinking, strategic planning, pattern recognition, and memorization skills.
Besides just being plain fun crocheting and knitting will: *Refine your child's motor skill, Improve your child's focusing and concentration ability, Require your child to engage math skills, Encourage your child in developing creativity and Push your child to persevere with the task to see the finished result.