We have suspended our lunch program until further notice.
After School Enrichments
Afterschool enrichment classes may be available for an additional fee. Our classes may include:
Our STEM curriculum uses hands-on, real-life situations to help children learn to navigate and problem solve in the world around them. By introducing children to Science, Technology, Engineering and Mathematical Concepts, we will spark their curiosity and advance their understanding of the world.
Perfect for children who love to help out in the kitchen, this enrichment includes food preparation related to the theme of books that are read.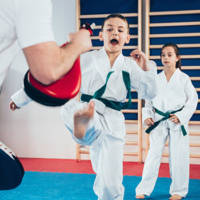 Nuwar's Kenpo Karate has been a very popular enrichment choice for several years. Karate promotes concentration, structure, and self-discipline.