With 20 years experience in education, Torah Tots Early Childhood Center will bring the excellent practices that they have established into Tamim Academy. Visit chabadcentralboca.com to learn more about the community.
School Hours:


Monday-Thursday: 8:45am-3:45pm
Friday: 8:45am-2:30pm
If you've ever climbed up trees or over rocks, built a fort, formed mud pies, dug in the sand, or jumped in leaves, you've experienced natural play. The open-ended possibilities inherent in the natural world provide endless opportunities to practice the traits and skills that humans have always needed. Unfortunately, those of us centered in cities have fewer and fewer connections to the joy and wonder of nature. To combat that trend, we constructed a natural playground where our young learners can explore plant growth, inspect insects, and climb up a hill.
Unlike a traditional playground made of plastic and metal, our natural playground uses materials such as plants, boulders, logs, and earth mounds to provide a creative and interactive play experience. Children are able to engage in independent and collaborative problem solving, hypothesize and experiment, and construct a concrete understanding of environmentalism. The time learners spend outdoors builds healthy bodies and also minds – as yet another area of authentic learning.
Our hot lunches are prepared by CEK Caterers, the in-house caterer for Chabad of Central Boca Raton. CEK is under ORB supervision. Families have the option of purchasing lunch for the whole week, or Fridays only.
After School Enrichments
Afterschool enrichment classes may be available for an additional fee. Our classes may include:
Perfect for children who love to help out in the kitchen, this enrichment includes food preparation related to the theme of books that are read.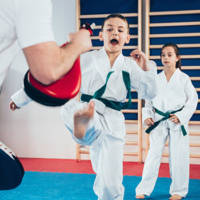 Nuwar's Kenpo Karate has been a very popular enrichment choice for several years. Karate promotes concentration, structure, and self-discipline.